What is Flutterwave Store?
Flutterwave Store is quite simply the best and easiest way to launch and manage an e-commerce business that accepts payments from anywhere in the world without creating a website, knowing how to code etc.
Flutterwave Store allows you to upload products, set prices and (in some markets) have our integrated delivery partners pick up when you have an order and deliver to your customer. "Buy Online, Pickup Curbside" store if you like.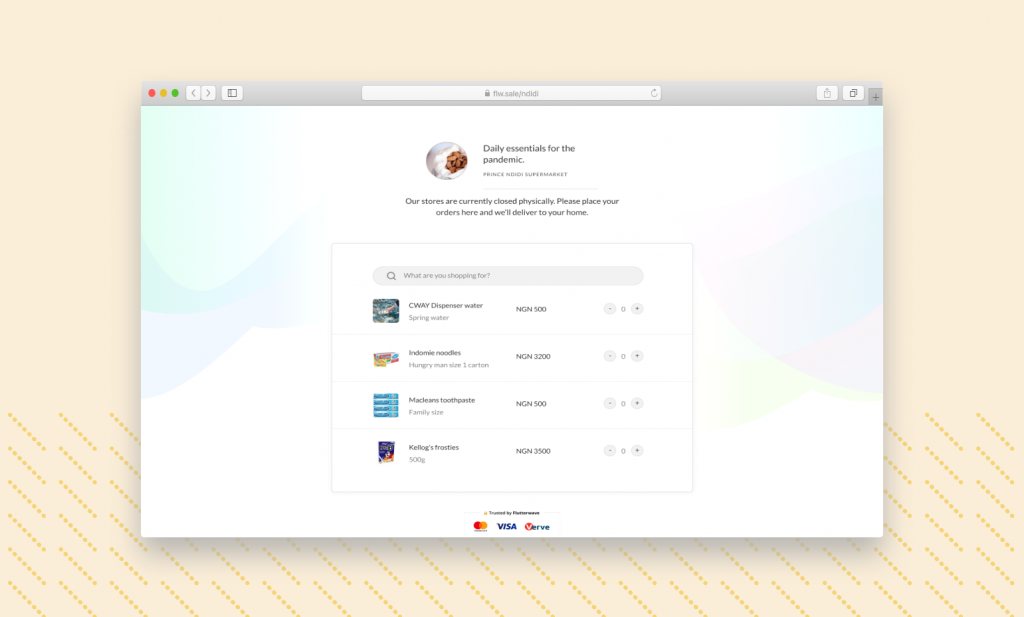 Why Flutterwave Store?
Flutterwave Store was conceived as part of Flutterwave's resolve to help businesses to #KeepTheLightsOn during the global COVID-19 pandemic.
Flutterwave Store is very simple and easy-to-use because it's designed to bring businesses that are offline, online with minimal hassle.
With delivery integrated, Flutterwave Store ensures that businesses operate effectively during the pandemic and even after as they don't have move an inch from their location to transact with their customers.
How does Flutterwave Store work?
Here's how Flutterwave Store works:
First, you need a Flutterwave account. If you don't have one, sign up here. If you have one already, sign into your dashboard.
There's a menu on the left of the dashboard, select "store" from it. On the Store page, click 'Setup my store' that's displayed.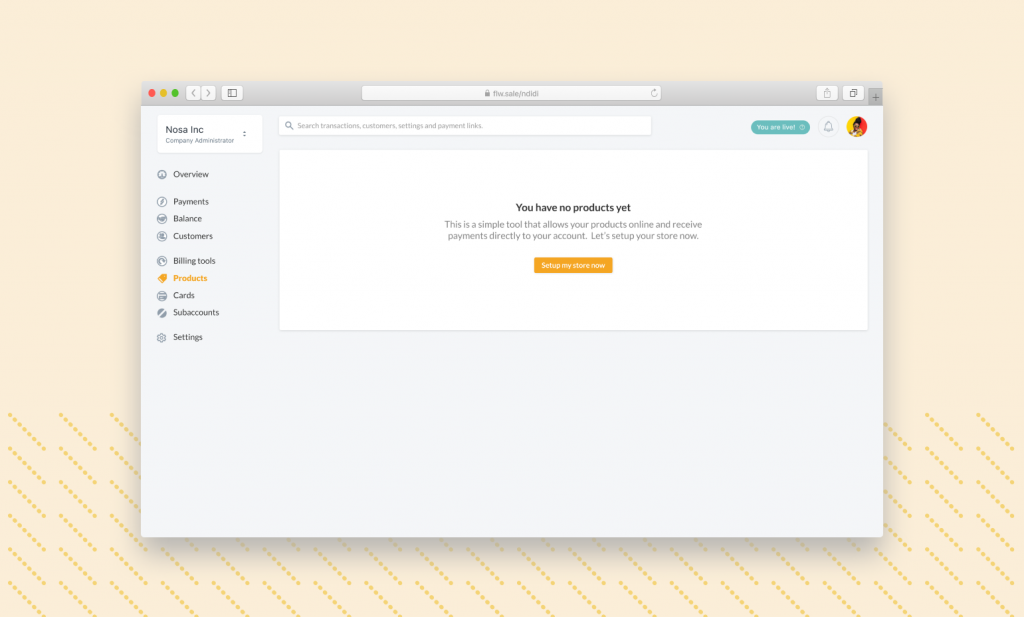 Edit the store name to a name you want to use if the store name you want is different from your business name that was pre-filled. Enter your store description and edit store url if necessary.
Click 'Complete Setup'. A store link is generated and displayed on the dashboard.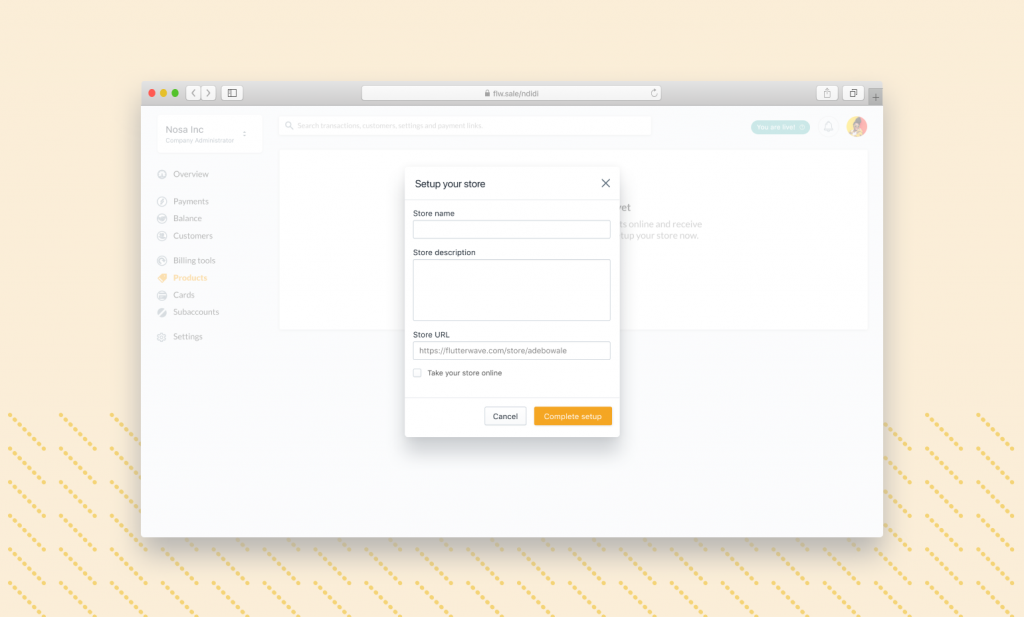 Click 'Add product' to add product to the store.
When product details are filled, the product is displayed on the dashboard.
Click on the store link to access the store url or copy it and send to prospective customers. (Your store page displays all products listed
online).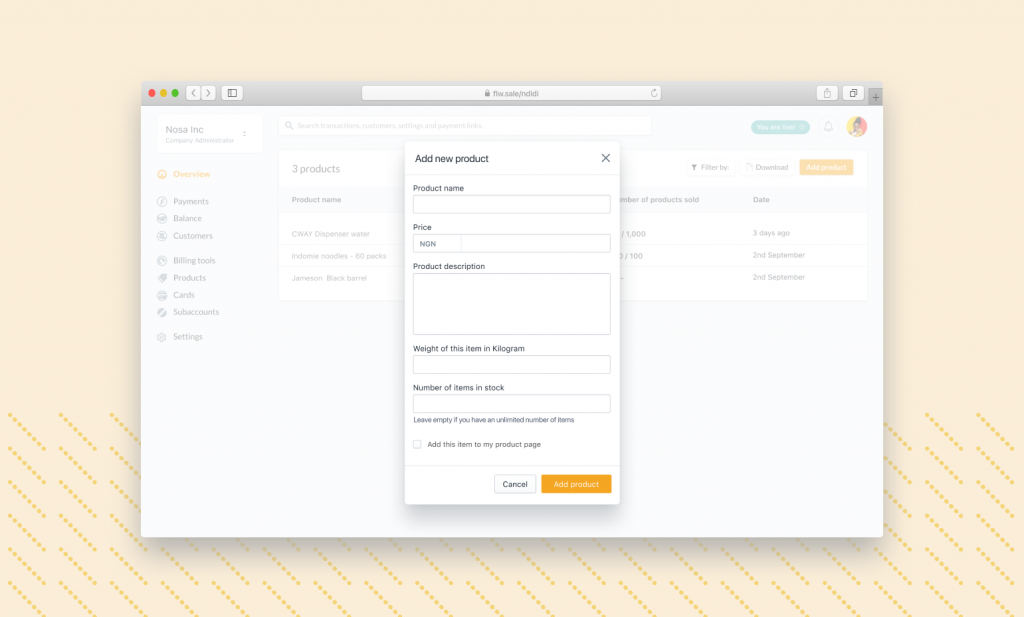 That's it, you're done. You've added products and you're ready to sell to the world!
Where is Flutterwave Store available?
Flutterwave Store has no boundaries, no borders, no limits. You can create and sell to anyone. With Flutterwave Store, you have the same power to process payments as any company on the Flutterwave network.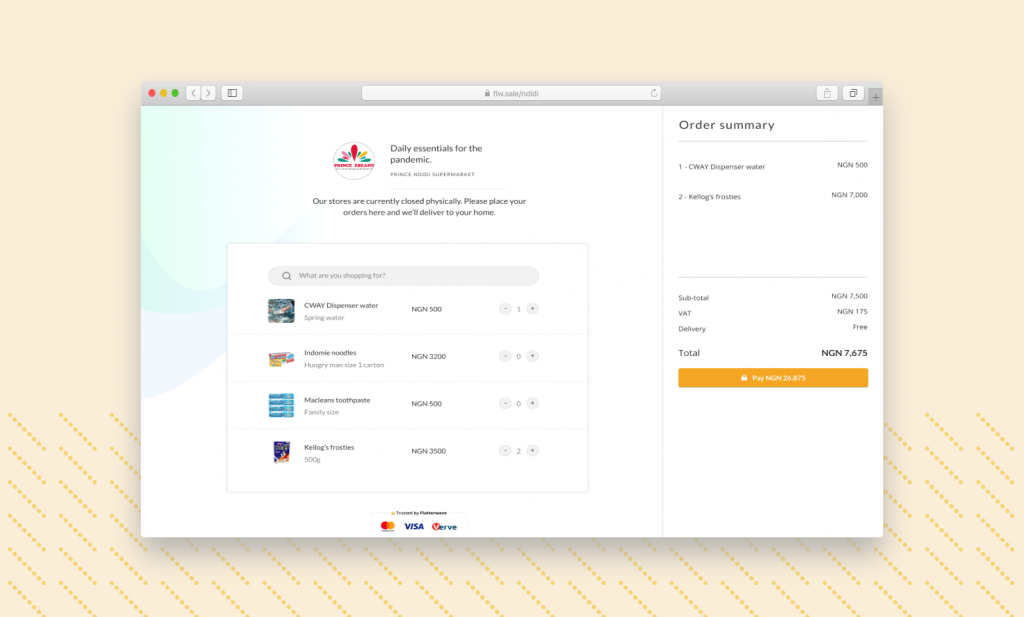 When will Flutterwave Store be available?
Flutterwave Store is available right now to you. Go ahead and take advantage of it. Here's to great sales for you!