Welcome to our new blog series at Flutterwave where we'll be telling the stories of our team members. In this series, we'll learn about their journey into tech, their Flutterwave story, what they do exactly and what a typical day looks like for them.
Today, we have Fiyinfoluwa Akinsiku, one of our Software Engineers. In this article, "Siku" as she's fondly called, let's us in on her journey from microbiology to software development, Flutterwave and a bit about what her career has looked like since she started here 18 months ago.
Can you introduce yourself?
My name is Fiyinfoluwa Akinsiku, some people call me "Fiyin", and some call me "Siku". I studied Microbiology, but I am currently a Software Engineer. I started software engineering in 2019, I learnt on my own, although I am hoping to study it in school at some point in the not-so-distant future. I know a lot of people say there's almost no need to get a degree in software engineering since you have some experience, but it's something I'm still thinking about.
I love seeing career-switching stories like this, what's the most interesting thing about you?
I like writing but don't like writing as a source of income because of the pressure that comes with it. Although, sometimes I write as a source of income, I don't like the pressure.
Interesting, so tell me how you got into this career path. From Microbiologist to Software Engineer.
For some reason, in secondary school, I liked Computer Science. Anytime I think back, I remember a class we were being taught "Logical Operators". I liked it and I wanted to study Computer Science at the University but people advised against it because they thought Computer Scientists weren't going to "blow" in Nigeria.
Oh, what a shame, if only they knew…..
It was a serious discussion, I went on a walk with my Dad to talk about it and he wasn't trying to force a particular course on me, he has never been like that. He just wanted me to study a course that he thought would give me an opportunity to have a promising career.
This sounds familiar and yes, it's always from a place of love.
I couldn't study medicine and the closest one I found was Microbiology (MCB), so I did that. My Parents wanted me to complete my Microbiology degree, and then go abroad for my Medical degree. However, after my first degree, I just wanted to do a Masters in Microbiology but it didn't work out. I was comfortable with my first degree, I didn't think I needed to study Medicine. When it didn't work out, I thought to reconsider my first love, Computer Science but I didn't want my MCB to be in vain. I was looking for a way to combine both fields, so in the process, I rediscovered Bioinformatics. Rediscover because I had a Professor in school who was into it, but I wasn't interested then. While applying for a Master's in Bioinformatics, I kept seeing experience in computer science as a prerequisite.
To backtrack, during my mandatory 1-Year Youth Service, I picked up website building mainly because I was just curious about websites and how different pages could be opened after a click. Also, I'm not going to lie, I was bored. I did some research and I came across HTML, CSS & Javascript. As this interest brewed, I took a freeCodeCamp course on Javascript, HTML & CSS. I also joined a club where someone volunteered to teach us PHP, Javascript and others. However, after some time and due to a faulty computer, I dropped everything until when started prepping for the Bioinformatics degree.
I was working as a writer then, so I had some free time which I used to learn about Bioinformatics and somehow, I moved into Data Science. Then, someone told me about Dev Careers because Twitter friends knew I was trying to get into software development. I applied to Dev Careers and I got in and that's how I got here.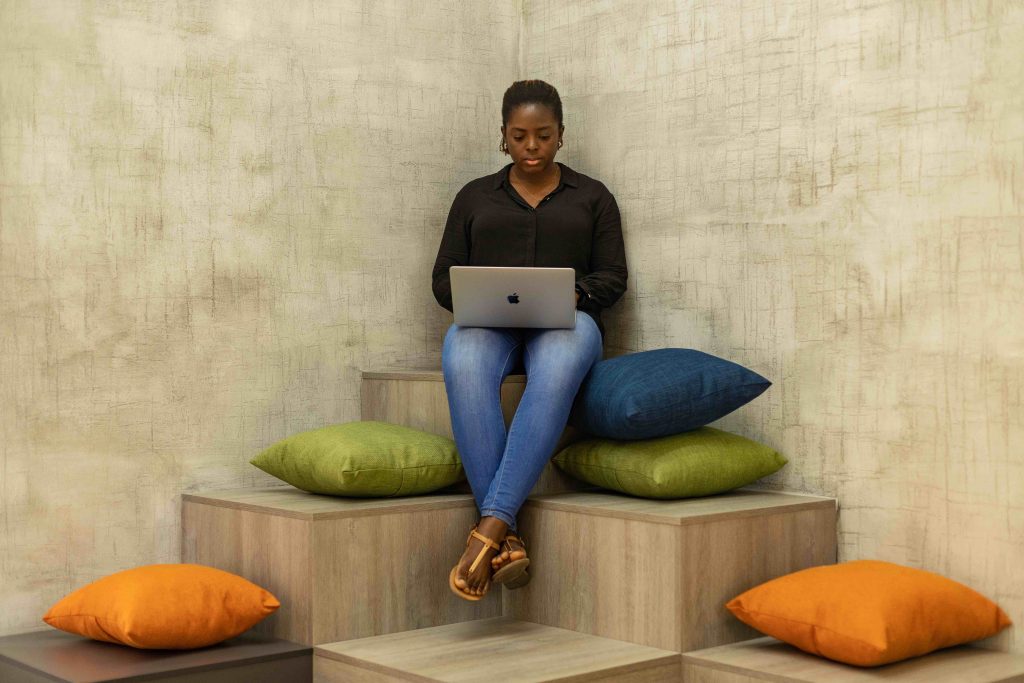 So, what's your Flutterwave Story?
After my Dev Careers program in 2020, the program lead sent me a job opening for an internship. He told me to send my CV and we also had a class on CV writing to improve our chances of getting the role. He asked me to apply and indicated that I'm from Dev Careers. I applied and went through the whole process but wasn't enthused because I had seen stories of people not getting jobs years after their training. I don't like rejections and I knew that if I got 10 rejections, I was just going to do something else. I wasn't hopeful even though I gave my best but surprisingly, I got the internship role and it was for 3 months.
Before the end of the 3 months, a friend sent me a link to an Internship role at Flutterwave. I applied, did the assessment and went through the tedious process. I got the offer but was a bit confused because I didn't know a lot about Flutterwave. I mentioned it to my friend whose organisation did some partnership work with Flutterwave, she told me about the company and further encouraged me to accept the offer. Although I was sceptical because I had just completed an internship somewhere and I'm off to another. She told me the prospects are very good so, I went for it. In fact, I declined the full-time offer I got at the previous company to accept Flutterwave's internship offer. Now, I have been here for 18 months and I've grown from an intern to a full software engineer.
Wow, what a journey! Explain your role to a Five-Year-Old
For a 5-year-old, I'm assuming they'll be in primary school and they watch a lot of cartoons. I'd say the cartoons they watch on TV are not just on their TV, they're being stored somewhere and my job would be to tell the people operating the TV where they can fetch these videos from and how they can get the videos to show you. Basically, I'm in charge of saving your videos and telling the people working on the TV, how and where to retrieve these videos to show you. I hope I tried and I hope they'll understand. I can't really remember how 5-year-olds think these days.
You actually tried. What does a typical work day look like for you?
I fill my standups on Jiira every morning before 9 am. After this, I start my daily tasks by viewing where I've been tagged for any PR (Pull Request) or Merge Request. If it's a small change, I try to do it immediately and if it's a hotfix, especially an issue affecting customers in real-time, I review it quickly and leave a comment.
I do other tasks, writing code and doing research while trying not to cry when I am frustrated.
Hahahahahaha 🤣🤣🤣
By 1 pm, we have a video standup where all key stakeholders working on Flutterwave Store & Market meet to discuss our tasks, we also have sprint planning meetings occasionally. We plan our tasks and carefully estimate how long they will take.
By 1:30 pm, I go for lunch and I try not to overeat or else, I won't be able to do anything again. After lunch, I continue my work till the end of the day.
Great, well done. What's your proudest moment as a Waver?
My proudest moment was when I had to stand in for a colleague at work. It was spectacular to me because I was working on a different project that I wasn't used to before. I currently work in Commerce (Store & Market) and I had to work with the Onboarding team. I had to jump on calls to help our customers resolve certain issues and there was a particular one I was worried I was going to do more harm than good but after I helped the customer solve the problem, I just kept jumping on the call, this was the first time I was doing this. I was scared but the customer was super excited and grateful. I said to myself, "I'm Not A Scam, I Sabi".
Awwwnnn… What tool(s) make your work seamless?
SonarQube definitely makes my work easy, it helps me improve my code quality.
That's nice….How has working at Flutterwave made you a better Engineer?
I'd attribute most of it to my current Team Lead, Ayodeji, he's a very good manager. He's empathetic and he encourages us to not just be good engineers but good people to our fellow engineers. He has shown us different ways to deal with frustration, anger and all because sometimes you can get frustrated. He doesn't want us to be good programmers alone but also good people to work with. He's always sharing links to helpful resources to help us grow in our careers.
I know him, he's a top lad. What advice would you give to your 16-year-old self?
I was in my first year of University at 16. I'd tell myself to be serious with my studies, don't just coast along. Try to make the most of your time and what you have, don't settle for average. Until recently, I was fine with being okay as long as I wasn't bad. I don't always strive to be the best, I just don't want to be below average. Don't just sit up when you've failed, work towards avoiding failure and even if you fail, it's part of life.
If you want to, you can cry about it but don't think that's the end of the world, fall and rise up again!
Osheyyy… Still We Rise…..
Where can people connect with you?
People can connect with me on LinkedIn.
What do you do for fun outside work?
I'm not really a fan of leaving my house, I'm a home buddy. Although I enjoy time out with my friends. I mostly enjoy movies and music when I'm not working.
This is how Fiyinfoluwa got here, she's helping our customers create endless possibilities with her skills. We hope you found her journey both interesting and inspiring.