Welcome to our new blog series at Flutterwave, where we'll be telling the stories of our team members. In this series, we'll learn about their journey into tech, their Flutterwave story, what they do exactly and what a typical day looks like for them.
For our first article, we have Cornelius Ashley-Osuzoka, our Developer Experience Team Lead. In this article, Cornelius tells us how he got into software development, Flutterwave and a bit about what his career has looked like since he started here almost three years ago. We also get a glimpse into his interests beyond work. For more information on Cornelius, check out his LinkedIn and Twitter.
So Cornelius, to start us off and to give the readers an idea of who you are, tell us the most interesting thing about you.
The most bizarre and interesting thing about me is the fact that I support Atletico Madrid.
Oh, what a shame
Well, we won La Liga 2 seasons ago.
You actually have a point. Okay, let's get into it. So can you tell us a bit about how you got into this career path?
I had always found software engineering interesting because my brother studied software engineering for his first degree and whilst watching him, I was always amazed at what he could do. I had never considered it a career until I met a friend at university and saw how serious software engineering could be, especially with Python. I decided to try it out and that evolved into doing smaller projects and a few hackathons and before I knew it, I was doing it as a career.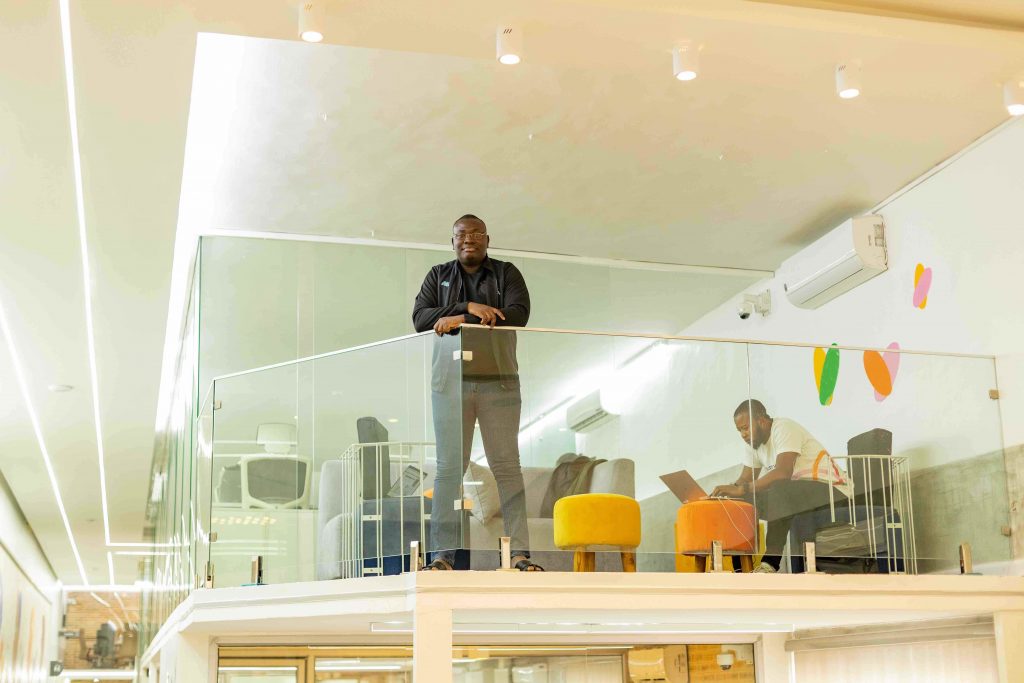 What's your Flutterwave story?
In University, I had a friend called MJ who shared a lot of interests with me. We both studied Chemical Engineering and we had similar extracurricular activities. We were both involved in AIESEC and student politics so we saw each other frequently and were able to strike up a friendship. When he graduated, he started working with Flutterwave and at the time I was still figuring out what I wanted to do, although I knew I wanted to work in financial technology, specifically technology that powered trading operations and transfers of assets. This led me to an internship at Cowrywise which helped teach me more about the Fintech ecosystem.
After my internship, when I was speaking to MJ and trying to answer that inevitable 'what next?', MJ told me about Flutterwave's 'Tech Heroes' program which was basically an internship recruitment program. It sounded interesting but I knew nothing about Flutterwave so I started researching – 'What does Flutterwave do?' 'What is Barter?' 'How does a Payment Gateway work?' 'What features do they have?'
When I felt like I knew enough, I applied and I got through to the first stage interview. That was the beginning of my journey at Flutterwave. I met Blessed, Solejay, Victoria and Lara that day.
Thankfully, I got through to the second stage and then the third stage. At that point, I had met so many people, I can't even begin to list them. A highlight of my interview journey was definitely my interview with the CEO. He told me to ask him any question. I had never had this type of interview experience before and at the time, I barely knew anything about him so I really wasn't prepared for this.
Luckily, I had read an article where he said 'Bring on the madness' so I asked him what he meant by this, to which he responded that it was from the Fast and Furious movie franchise and I should go and watch everything and come back and tell him what it means. Before I left though, he told me that it basically means that we are ready for anything that is thrown at us. That was truly one of the most bizarre but fascinating exchanges I have ever had with anyone and a great introduction to what it would be like to work at Flutterwave.
Thanks for that story. How long have you been here?
About 3 years.
Please take us through your career evolution at Flutterwave.
I came in as a Tech Hero intern working with the Integration team. Basically, what we did was help businesses onboard Flutterwave. Before long though, I was a Product Owner, internally, on the Integration team. This came about after I noticed a problem with our SDKs (Software Development Kit) – some were not up to date, meaning that there were features some of our SDKs had and others did not. This was creating a bias where people who did not know certain coding languages would not be able to use Flutterwave SDKs. After taking this to our team leader, I was made a Product Owner and began to manage the SDKs which I still do today.
After this, the CEO came up with the idea to start a technical account management team. He explained that we would be the connection between the engineering team of our businesses and the Flutterwave engineering, so I moved there for some time before returning to the Integration team which evolved to Developer Experience, with a focus on how to get people to use Flutterwave as a technology. Since then, my role has changed a bit. I am now leading the Developer Experience team and we are focused more on the experience of Developers.
Tell us about your current role as though you were talking to a five-year-old.
Before I do that, I think I should explain what a Developer is. A Developer is someone who works with computers to create applications. Those applications are likely to require collecting money from people when they want to buy things or send money to others. Flutterwave is one such way to collect money and how developers can add and integrate Flutterwave is what we call Developer Experience. The team that I lead is in charge of helping developers have a positive experience when adding Flutterwave to their applications. So that's how I would explain it to a five-year-old.
So briefly, what does a work day look like for you?
My work days are quite dynamic but the static points of my day are an email review and a task review where I make sure I have completed the tasks from the previous day and outline what I'm doing that day. After this, I go straight to work. A lot of my work now revolves around strategizing and engaging Product, Business and Engineering because they are the ones implementing changes, so depending on the change we are implementing that day, I need to figure out how to communicate that change to the Developer Community and how we want to document that change.
I also engage with developers in the community. I learn about their experiences and get feedback from them on how we can improve our products. I usually have a couple of meetings a day as well. I try to breeze through them but some days you have more meetings than you'd like.
Tell us about a product or feature you've worked on that makes you proud.
This is very hard but I'd say the set of products is our v3 SDKs. Leading and managing the team to build those SDKs for the v3 APIs was very exciting and what I'm most proud of.
What tool makes your work seamless?
Notion, for strategizing, drafting ideas and putting things together.
How has working at Flutterwave made you a better Software Engineer?
When I first started, I didn't know much about businesses and technology so it really was an eye-opening experience when I first joined the team. When I worked with Yusuf, he really helped me build my Python skills up to the production deployment level and working on the business team with TAM (Technical Account Management) also opened my eyes to how business cases can be translated into technical requirements. All these things helped me, as an engineer, understand considerations from a higher level point where the business has a goal and an objective. From there, I have learned to break this objective down into technical requirements and split those requirements into code and infrastructure that I would use to build a product. These different aspects have helped me improve from what I was coming, into what I am now, which is a very senior support engineer, helping businesses to scale their business with Flutterwave.
What advice would you give to your 16-year-old self?
I would tell my 16-year-old self to be more curious and inquisitive. It's okay not to know things and to ask questions. There are more people willing to help than it seems and if you don't ask you will never know.
What do you do for fun outside of work?
To unwind, I cook. I like to experiment, so when I see something on a cooking show, I try to recreate what I saw if I can get the ingredients. If I'm not cooking, I'm probably watching anime.
Finally, where can people connect with you?
You can connect with me on LinkedIn and Twitter.
The Flutterwave Engineering Team is made up of different units responsible for the development and maintenance of our technology products in collaboration with other teams like Product, Marketing, and Design among others.
You can learn more about our developer products on our Documentation Page. If you have feedback about our products, you can reach out to us on Twitter and by Email. You can also join our Developer Community on Slack to get regular updates from us.