I'm going to start with a marketing cliche that has proven itself to be true time and time again = "content is king." Of course, it is. Let's do a little challenge. Go anywhere on the internet and you will find out that it's simply different forms of content. Video, text, graphics, audio. 
Content Marketing helps you build brand trust, grow visibility, create awareness for the business, all while adding value and generating revenue for the company. Billions and billions of content out there, but you must stand out. You must reach your audience whose attention span has thinned out, somehow. You must sell your product.
What do you then do?
The short answer is Storytelling.
Spoiler alert: It's also the long answer.
Storytelling, in a marketing context, is about building a narrative or journey related to your company/products where the customer is the hero. It's about acknowledging that there are real people that use your products and services who are emotional, sensitive, happy, sad or angry. Storytelling doesn't run away from emotions, it leans into the universal humanity behind it.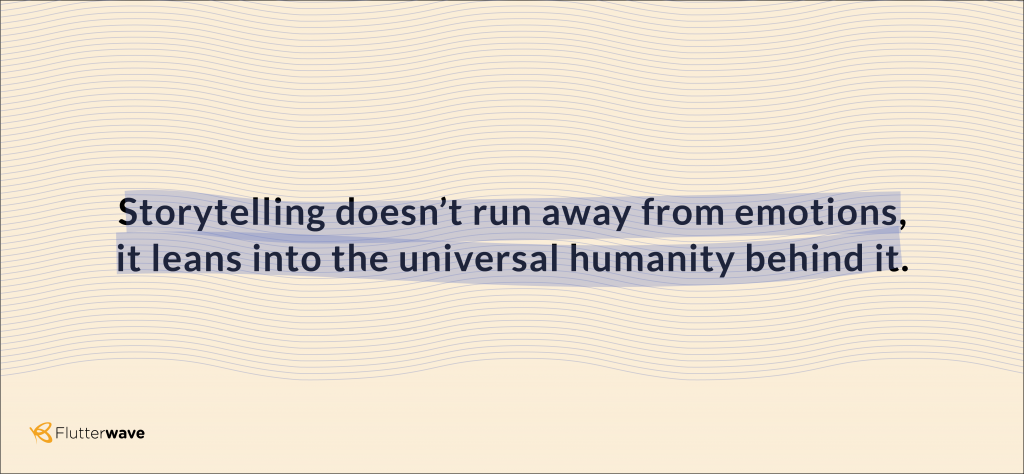 Creating your Content Strategy
Now that you know what storytelling is, how do you infuse it into the content you are creating, so you can cut through the billions of ads and content out there? How do you create the best content for your audience? 


Don't forget your target audience
As a business owner – you have probably determined your target audience, and maybe even gone a step further by segmenting your audience based on demographics, location, etc. Now it's time to drill even further and think about your audience in terms of what they value as humans.
What are their principles, what's an important life event that's taking place for them, where are they in life? All these will inform the type of content that will resonate with them.
For example, if your product is created for women who are aged 25 to 40, living in urban areas, what ways do they connect with content? Where are they meeting? How are they relating? What values are important to them?
Here's a quick sample IG post for a business selling fancy nightwear to millennial and Gen Z women.
"Tricia has one of those 9-5s that quite frankly, a lot of us do not love, but need. When she gets home after a long day at work, all she wants to do is have a restful night binge-watching Netflix's Queen's Gambit.

Good thing, Tricia has the soft, smooth fabric and cuts of her Trina Nightwears to thank for a night full of love, freedom and peace. Nights during which she forgets that she's got a boring 9-5."
Think about the value of your products or services beyond the obvious
There are obvious reasons why people should use your products and services – that's marketing. Storytelling thinks about the possibilities made available because of the existence of your company.
Yes, you are a fashion designer in Nairobi and the clothes you make are beautiful. Drill down a little further and you will see that you are a fashion designer who makes it possible for women to look and feel their best in their most important moments – weddings, birthday celebrations. Your brand is there in important life moments. You can infuse this insight in your content creation and storytelling.
Lizzy's Touch is a Nairobi-based fashion designer and this could be a compelling love story for her brand:
"Dessy, a charming and beautiful woman knew that one day, she would wear her best dress, walk into a large hall of people and be the center of all attention. She would be serenaded with flowers and she would throw flowers to her bridesmaids.
She knew it was going to be a happy day, if not the happiest. Only one problem, she needed a careful, steady, experienced, empathetic hand to hand-make her wedding gown. Guess who she came to? You are right if you thought, "Lizzy's Touch."
The wedding is over and here's what Dessy had to say, "all during the event, I felt free and held, I felt love and light, all of my happiness, my joys were whole. You made my day. Thank You."
For us, it is more than giving you the best dress. It is about giving you a memorable day and experience."


What are the main emotions you want your customers to feel?
So now you have thought of your audience insights, what do you want them to take away from the piece of content you are creating? Are you tapping into nostalgia? Anger? Social Justice? What is the main message or your 'big idea' and how do you now convey that in your video, blog post article, graphic, or illustration?
Do this check-in at every stage of your content creation process – when you are creating your script, at every stage of your draft, you can create a mini focus group of people you trust who can share honest feedback regarding your content.
Also, don't forget that your emotion or big message determines the tone, look and feel of your content.
Let's consider a farm-to-shelf fresh food delivery business which is also climate-friendly. Here's a sample promotional material (video script).
"Justin and I found this business and found purpose. Before now, we were Bankers and Finance people, crunching numbers and helping big Corps make profit and earning a truck load of money, too. Until our 10th anniversary and Justin asked, "are we happy?"
Money is supposed to be a source of happiness right? Well, one way you could make that money is to do what you love while helping people and nurturing the earth. At Just-In Shelves, we recycle water used for cleaning up fresh food, into irrigation for the crops.
This has helped us conserve energy used for pumping water, by 34% from the previous period. That way, we contribute our small quota in helping the climate heal, by reducing carbon emission. You could also help the climate heal. Eat fresh food from Just-In. "


What's the best channel you should use to get them to get the message? 
Content performs differently on different platforms – sometimes your video content does way better than your written content because it presents the ideas in a way that's quick, easily digestible and fast compared to a 5 to 10 minute written article.
Determine what would work for your objectives and use that channel.
You can also improve the chances of your content doing well by employing multiple avenues if you have the time and resources to make this happen. Try not to be repetitive if you are using multiple channels – make sure you are calling out the message in different ways and formats on each channel employed.
From the example in number 3, Just-In Shelves can choose to target Millennials and Gen Zs, but they have to do it differently. The video script above, voiced by Wendy, a Co-founder and Justin's partner could go on Twitter, Youtube, Facebook, Instagram and would totally make sense for Millenials. But for Gen Zs, they could do a quick tik tok video of them conserving water at the farm, with a phrase, "Order Just-In, heal the earth."


Don't forget to plug your products or services 
The goal of content marketing is to create value for your customers and drive visibility for your business in order to lead to conversions. Conversions here could mean sales, bookings or downloads for your app. So you have to find a way to creatively infuse and mention your products and services without it sticking out like a sore thumb.
The best way to do this is to think like a customer who is reading your article – where will they be looking for this information? At what point do they need examples that you can include in your content? Find those points and plug your products or services into it.
For all the examples above, the products feature but the story takes the front seat. Do the same for your stories and you will have people loving your stories and buying your product.
Storytelling is not an exact science – when it works, it yields amazing results. But like with everything else, it doesn't always get you to your objective. When you combine storytelling with traditional and digital marketing techniques, it increases your chances for success.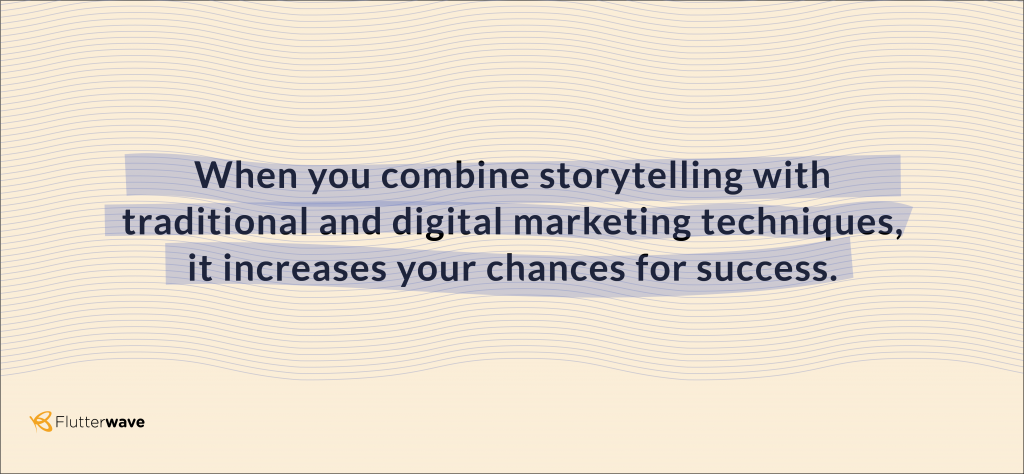 I'm going to end this on another cliche by pointing out that "practice makes perfect," when it comes to infusing storytelling into your content marketing strategy.
___________________________________________________________
Get a free e-Commerce storefront and receive payments from anywhere in the world with Flutterwave Store. Sign up to start selling online.