You have planned your ideal event, booked an event venue, paid for all logistics needed, booked all necessary vendors and followed an event planning guide. What's next? Time to sell tickets.
In selling tickets, enabling your customers to have a convenient, safe and simple mode of purchasing their tickets is key. Hence, the mode of ticket sales is primal in event planning and execution.
Ticketing is one of the essential elements of event planning. Through ticketing, the identities of paid guests can be verified and recorded, and most importantly revenue can be earned.
Three basic questions must be asked when planning a ticketed event.
What tools will be used to manage the event tickets and payment?
Are payments on the event ticketing platform seamless and secure?
Will there be different variations of tickets? (Eg. VIP or regular tickets)
Once these questions are answered, you can decide the pricing of the tickets, design your event poster and set up a convenient registration process for guests.
Through the use of the Fintech as a Service infrastructure by Flutterwave, Afritickets, an online ticketing platform that provides an event marketing and ticketing service for Africans will make it easier for customers of event organisers across the world to purchase tickets seamlessly with a variety of payment options to their advantage. Through this partnership, Afritickets will facilitate revenue opportunities for event organisers in Africa and improve the ticketing experience for event-goers.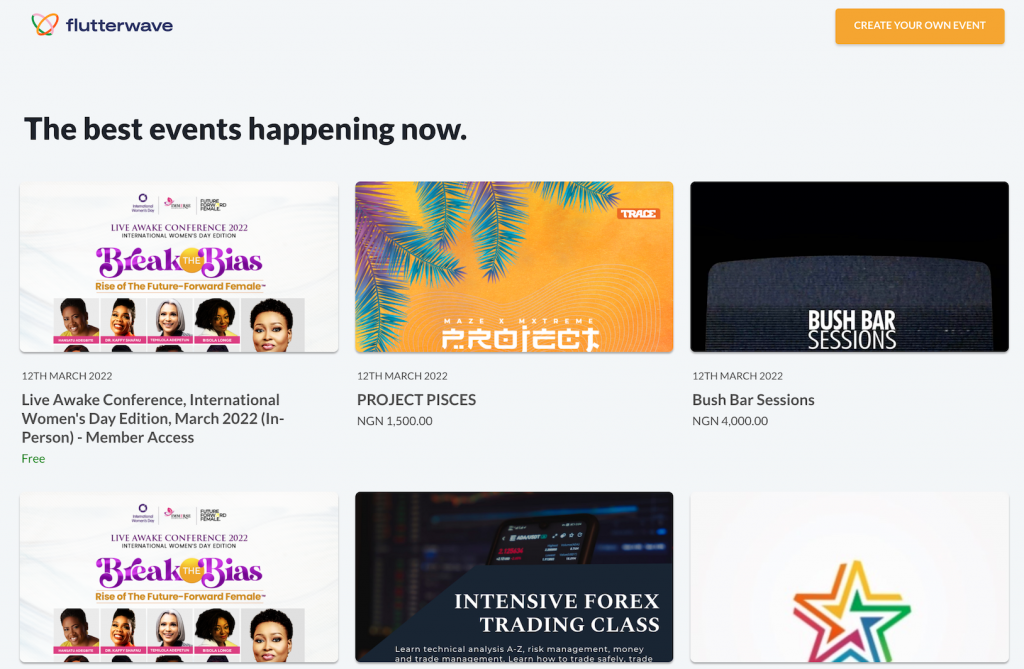 How can you create an event on Afritickets?
Visit dashboard.flutterwave.com and create a Flutterwave account
Enter all necessary details to create your account
On your dashboard, choose "Events."
Click Create Events
Enter event details (event name, description, date, etc.)
Save event details
Create a ticket by entering the ticket name, price, number of tickets available and date to end ticket sales
Take your event online.
How Does This Partnership Benefit Event Organisers?
Reach attendees beyond your borders
This collaboration will connect event organisers with prospective customers across the world. Customers interested in purchasing tickets in other countries can still have access to purchase tickets at their convenience. Event organisers will not be limited to selling tickets in only countries they operate in but even to countries thousands of kilometres away.
Variety of payment methods
Customers can purchase tickets through payment options of their choice such as PayPal, Mobile Money, Discover Global Network cards, Barter, Card payments, M-Pesa, amongst others. Event organisers will benefit from varied payment options since customers are likely to pay faster and sooner than if they had limited options. Click here to find out more about payment options available to customers.
Free Promotion
Through this partnership, events selling tickets on the Afritickets events platform will enjoy the promotion at zero cost. The events will be listed on the Afritickets website where prospective customers will be attracted to visit. The events will also be posted on Afritickets social media channels and featured in Afritickets live events to support its amplification. This partnership also enables all events on Afritickets to be displayed simultaneously on the Flutterwave events platform.
A secure payment system for customers
It is crucial to validate the safety and integrity of your event brand. This can be achieved by ensuring the event ticketing platform is PCI compliant to keep all attendees' information confidential and prevent fraudulent cases. Through this collaboration, customers will enjoy a secure means of making payments for tickets and a stress-free experience.
Are you an event organiser, or are you thinking of setting up an event? We advise you to look no further. Build, showcase and sell out your dream event on Afritickets. Get started by clicking here.
We also answered a few questions you might have about setting up your event using Afritickets:
Can I refund tickets on Afritickets?
Yes, the event organizer can process any refund from their dashboard.
Can I set up a free event on Afritickets?
Yes, just create an account on Flutterwave, and you are good to go!
How do I get paid for tickets sold?
Funds less Afritickets commission is sent directly to your registered bank account or mobile wallet at the end of your event.
When do I get a settlement for tickets sold?
Settlement is done at the end of your event.
Can I cancel an event?
Yes, an event can be cancelled directly from your dashboard.
What online payment methods does Afritickets accept?
Payment methods such as cards, bank transfer, USSD, QR and Barter (Thanks to Flutterwave!) are accepted, as applicable in your country.
Do my customers have to register for Afritickets to buy their tickets?
No, tickets can be bought without a registered account.
Can events be kept private?
Not yet, but it's a function we are keen on having very soon
Can I get a sales report for tickets sold?
Yes. All transaction reports are on your dashboard
How can I get my event published on the Afritickets landing page?
Just create an account and upload your event!
Can discounts be added to events? (Early bird tickets)
Yes. Different ticket blocks can be created with various types of discounts.
How can I contact customer support?
Send an email to support@flutterwave.com, hi@flutterwave.com or events@flutterwave.com for any form of assistance.