The best way to send money is via Send. The best time to send money is now. Do it now.
Today we're announcing something that's just more than a product. At its most fundamental, it's a tool that allows you to send money to the ones that matter to you. It allows them to receive the money in a way that's convenient to them. But it's more than just that. Way more than that. It's not just a product, it's a paradigm shift. It's a mantra, a lifestyle. It's everything you've ever wanted.
Welcome to Send by Flutterwave
What do you get when your desire to create endless possibilities for everyone is met with a gap in the money transfer market? Send is what you get.
Send is leveraging 5 years+ work of building relationships, bridges, and infrastructure that connects African payments to build the ultimate money transfer solution.
Send allows individuals and businesses to easily send money to those that matter in a way that's convenient to the recipient. Developers are able to easily implement money transfer solutions for their clients or even build their own money transfer solutions powered by Send.
Send is a lifestyle
With Send, we're connecting to our very core. The very belief that you should have no boundaries, no borders, no limits, is at the core of everything we build. And immediate action is how we've always built.
Send is finding yourself in Nairobi and being able to add your US-issued Bank Card to a product that will allow you to patronize local businesses straight to their mPesa wallet.
Send is the freedom to conveniently and securely send money whenever and to wherever you want.
Send is direct, straight to the point, and is all about immediate action. Do it Now is not just a mantra, it's a way of life.
Send unlocks a new world of endless possibilities for us as individuals
Individuals are able to conveniently send money to friends and family via Send. Send is a deliberate decision built on four pillars.
First, Transparency. This means that no hidden charges will occur. Any extra charges say because of where your card is being charged from, must be presented to you prior to completing the transaction.
Speed – Speed means more than just the speed of the app i.e load time, number of screens, fields, and clicks to get to what's needed. The speed of the entire transaction matters. This is why Barter is integrated as a receiving method to ensure faster transactions.
Coverage – With Flutterwave's rapidly growing extensive coverage of regions across the globe, we've built a product that will cover as many regions as possible for both sending and receiving actions. It's important to us that you're able to always Send and receive money anywhere, anytime.
Convenience – This starts with the ease of use e.g from the password-less login for the web app to the convenience of the payment options available both to the receiver and to the sender.
Here's how you can start sending money to those that matter:
You don't need an account to start. Click the "Send Now" button on the homepage and enter your money transfer details i.e amount, sending currency/country, and receiving currency/country.
Next, input your email address or continue with either Google or Apple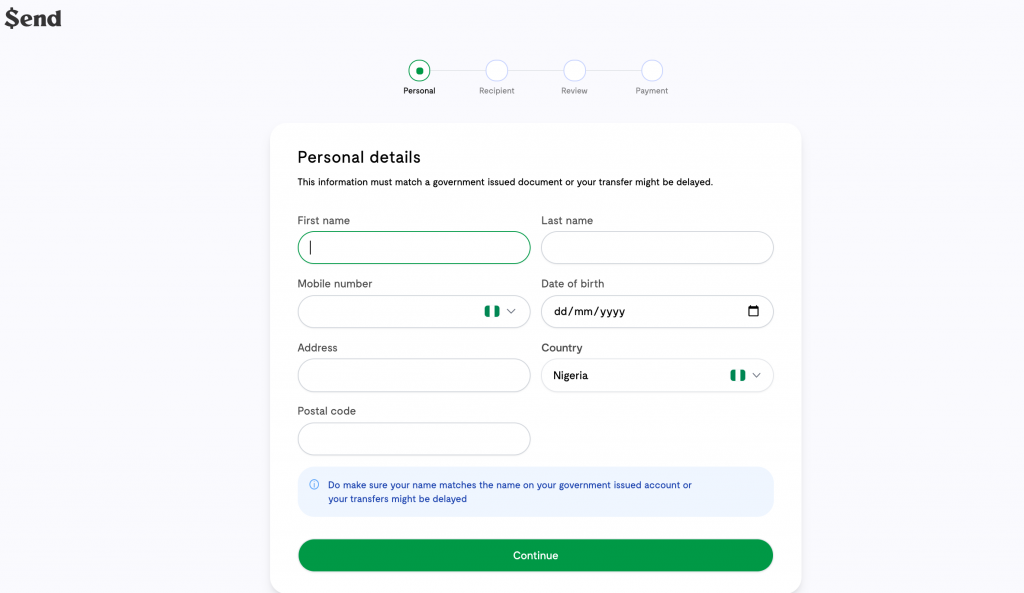 Fill in "Personal Details," "Recipient Details," "Review" the details, and make "Payment."
Don't take our word for it though. Take Send for a spin now.
Send unlocks a new world of endless possibilities for businesses
Send powers transfers in Flutterwave for Business, so just like individuals, businesses are able to leverage the power of Send to send money to those that matter – suppliers, contractors etc.
Send creates endless possibilities for businesses by:
Allowing businesses to process payouts globally in 150+ currencies with Send's APIs.
Providing a platform to easily pay your vendors and contractors across the globe.
To conveniently set up company payroll and leave the rest to us.
To send money to 40+ countries.
Send unlocks a new world of endless possibilities for Developers & Entrepreneurs
Just as Send powers money transfers in Flutterwave for Business and Barter, developers & entrepreneurs are able to leverage the power of Send to build great products.
Send allows you to easily build payment flows for any use case — from online collections to payouts and everything in between — by integrating our SDKs and API endpoints.
One time transfers
Recurring transfers
Payment verification
Bulk transfers and so much more.
You're welcome to the best way to Send money and we cannot wait to see how this changes everything for you.