In the process of turning their light bulb moment into successful businesses, entrepreneurs are faced with all kinds of hurdles – setting up their corporate business being a major one. Today, we're excited to announce Flutterwave Grow – a product that allows you to easily set up a registered business right from your bedroom.
Why Flutterwave Grow?
On our journey of "simplifying payments to create endless possibilities," we've learned one thing: payments is business and business is payments. This means that what we're really simplifying is business. It's this same realization that led us to build some of the great products that you love. The Flutterwave Store is a good example of this. For the uninitiated, Flutterwave Store is a product that allows anyone to create and manage a full-fledged e-commerce store with just a few clicks.
So, for us, Flutterwave Grow is yet another step towards achieving our mission. Flutterwave Grow is focused on creating endless possibilities for many businesses and yet-to-be-launched businesses. Yes, it's time to get started with that idea you've been nursing, you have no excuses anymore 😉.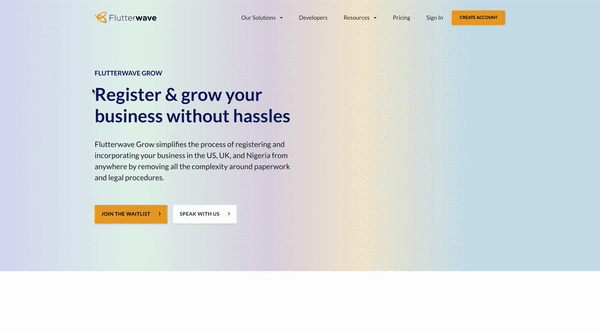 Register & grow your business
Flutterwave Grow simplifies the process of registering and incorporating your business by removing all the complexity around paperwork and legal procedures. The vision is that in addition to the many new businesses that will be created, businesses that already accept payments as individual businesses will use this opportunity to scale into full corporate entities.
Scale your business as a legal entity
By becoming a registered legal entity, you're able to scale your business even further. You gain access to opportunities, resources, and tools that corporate entities use e.g raising investment for your business.
By incorporating your business you're able to gain licenses in regulated industries. Flutterwave Grow offers you the opportunity to open up your business to new customer bases and opportunities.
E̶x̶p̶a̶n̶d̶ Grow Globally
The process of setting up a legal entity using Flutterwave Grow is simple and can be done right where you are. You only have to follow the steps as outlined here and we will handle the rest.
Visit the Flutterwave Grow website to get started immediately. Please let us know if you have any questions or feedback – we'd love to hear from you.