Centuries ago, business transactions were quite easy. People simply agreed to transact, and parties honoured their words. However, in this era, countless legal disputes have arisen in the business world, making several businesses and individuals skeptical in transacting with one another. There are many consequences of unorderly, unjust or unfair business relationships and transactions; and, to ensure the best decisions are made, it is essential to understand how laws work and the importance of legally binding agreements or contracts in protecting businesses or individuals involved in commercial dealings whether as a small, medium or a large business owner.
Creating legally binding agreements and contracts to protect you or your business when transacting is not a walk in the park for many. This is one reason many people ignore this important factor while entering business relationships. Beyond the perceived complexities of legal documents, there is also the cost implication of creating the legal documents. This is why LaniDigital, a platform that allows its users to create and purchase affordable legal templates in 5 easy steps for their everyday personal and business needs, was created. With payments powered by Flutterwave, LaniDigital seeks to satisfy the legal needs of businesses and individuals across Africa by providing legal templates and forms for business and personal transactions.
What is LaniDigital?
LaniDigital houses several legal contracts and forms for personal and business needs. These legal templates have been grouped into different categories, including but not limited to estate planning, marriage and divorce, finance, real estate, agreements, and so on. Users can easily select their preferred template(s)by simply considering their specific personal or business-related legal needs at that moment.LaniDigital is not a substitute for a lawyer or law firm; however, LaniDigital offers a technological solution to access with ease documents and templates created by duly qualified Nigerian lawyers. They also do not tell you which document to choose or how to complete it.
Source: https://www.lanidigital.com

Offer to Flutterwave merchants.
Flutterwave has partnered with LaniDigital to provide a whopping 7.5% exclusive discount on all templates purchased on LaniDigital by Flutterwave merchants. To enjoy the benefits of this partnership, you must have a Flutterwave account to explore the discount offers. To create a Flutterwave account, click here.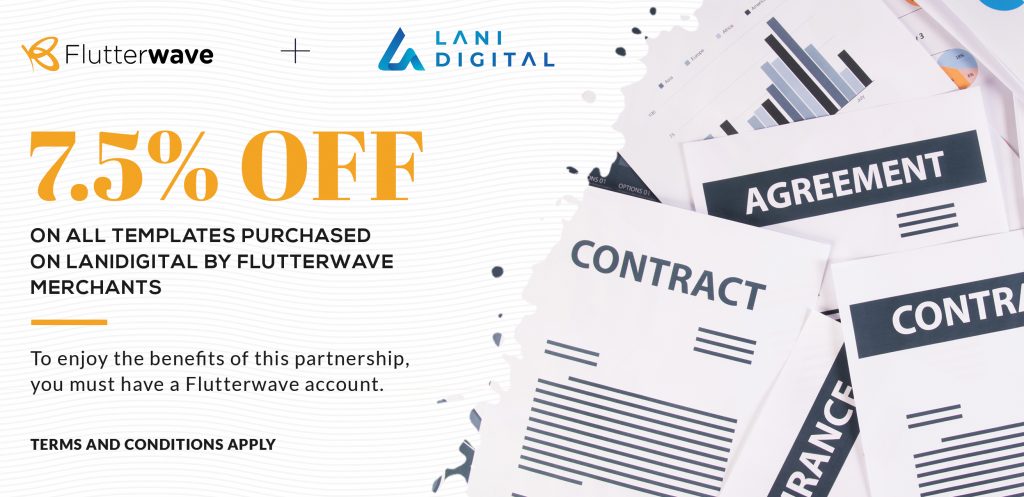 If you are an existing Flutterwave merchant, follow the steps in the image below to enjoy discounts on selected templates:
Enjoy the stress-free way of creating agreements and contracts for your day to day activities and transactions at discounted prices simply by being a merchant of Flutterwave. That is the perk this collaboration offers.
Visit the LaniDigital website to get access to your legal documents here (Terms and conditions apply).