In November 2020, we introduced the Product Discount – a feature that allows you set a discount/sales price for specific products in your store. Now, we're excited to announce Flutterwave Store Discount Codes. This feature allows you to seamlessly generate a discount code that applies to your customer's total order from your Store not just a specific product.
As usual, we'll start with a crash course on Flutterwave Store.
Flutterwave Store is quite simply the best and easiest way to launch and manage an e-commerce business that accepts payments from anywhere in the world without creating a website, knowing how to code etc.
Flutterwave Store allows you to upload products, set prices and (in some markets) have our integrated delivery partners pick up when you have an order and deliver to your customer. "Buy Online, Pickup Curbside" store if you like.
What is a Discount Code, and why should you use it?
BigCommerce defines Discount Codes as personalized or publicly-released codes offered to customers as a purchasing incentive that reduces the price of an order.
Quite often Discount codes are an effective means for ecommerce stores to attract new customers and also encourage/reward repeat customers.
Flutterwave Store Discount Codes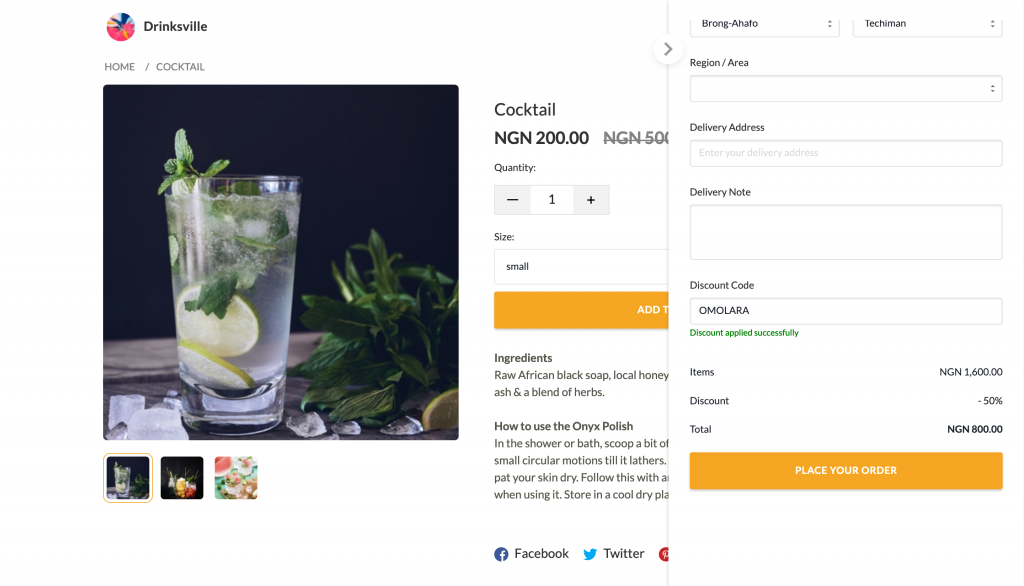 Flutterwave Store Discount Codes allows you to either generate a code for your customers or input your custom code. It can be a particular word, phrase or a combination of letters and numbers e.g Christmas2020 is a discount code you can use for Christmas discount promotion. This generated code can be either of the two types of discount available.
Fixed Amount– Selecting this Discount type means that the generated code will offer a set amount off a purchase. You have to enter the discount amount. For instance if you want to strike $15 off on every purchase, selecting this option and entering the $15 as discount amount means that every customer that applies this code at checkout will have $15 struck off their order.
Percentage– This applies a flat percentage discount off a shopper's complete order. The percentage entered for the Discount Code is applied to just the purchase and would not include the shipping or taxes.
Seamlessly Generate Discount Code for Your Customers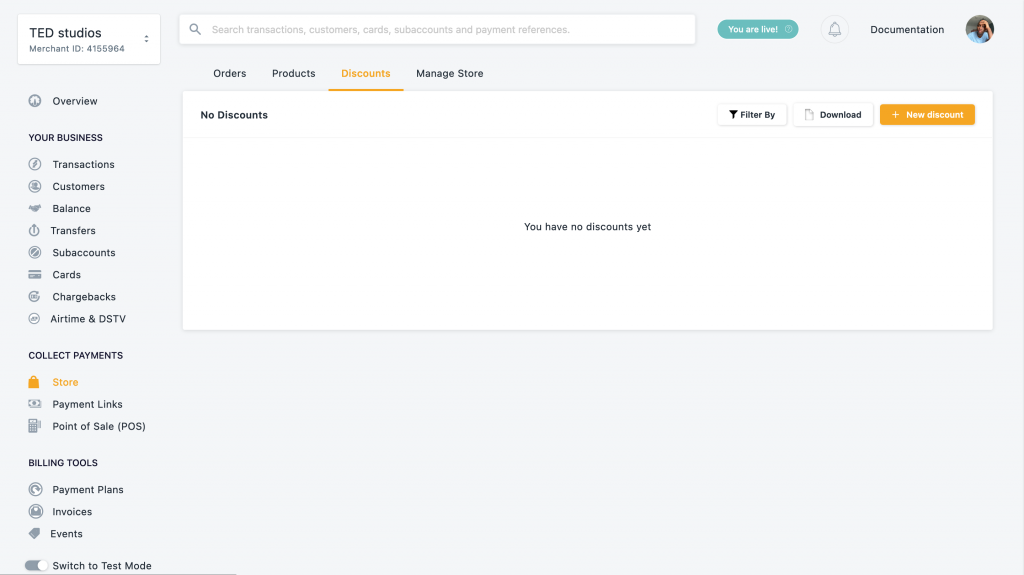 The journey starts when you go into your Store in your Flutterwave Dashboard. You'll notice that between Products and Manage Store in the Store screen, there's Discounts. Click Discounts to go to the Discounts screen. In the Discounts screen, click the New Discount button in the top right.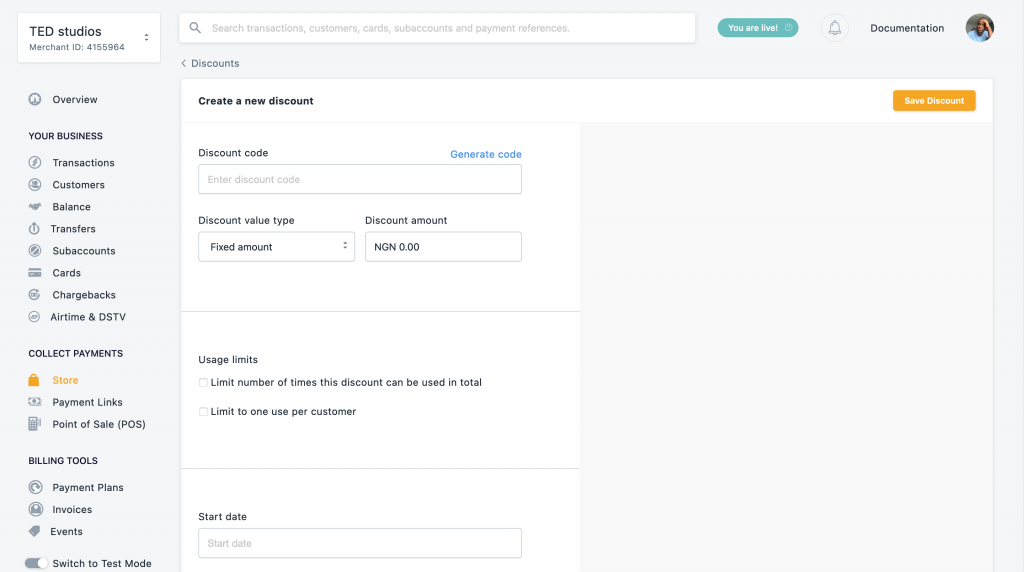 Here, you can either enter your custom discount code or click Generate code to get a random code generated for you.
Next, you have to set the type of discount you're looking to create. Your options are: fixed amount, percentage, and free shipping. For fixed amount and percentage, you have to enter the Discount amount in your currency or percentage respectively.
Set your usage limits as you desire. If you check Limit number of times this discount can be used in total, you have to input the number of times. This would work well if your offer is a "while stocks last" type of offer.
Set your Start date and Start time for the offer. Leave the Set end date unchecked if there's no end date, otherwise, check Set end date and add the date.
Click Save Discount to finish. The discount is now created and active.
You can go into your Discounts to see all your active Discounts. You can see how many times they've been used, and you can edit or delete any of them at any time.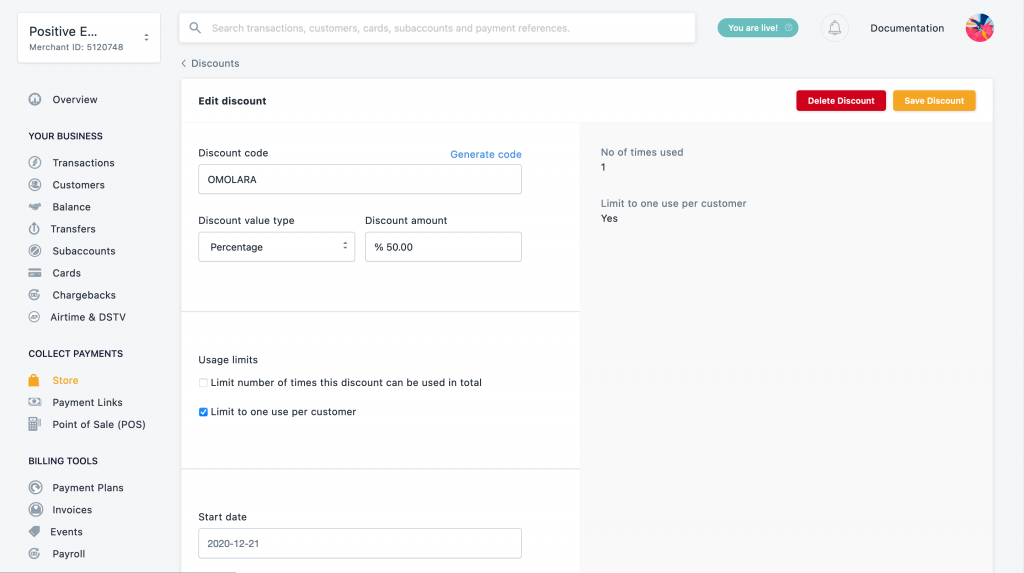 To delete a discount code, select the particular discount code from the Discounts screen. In the next screen, select either Edit Discount or Delete Discount from the menu on the top right.
Is this feature available everywhere right now?
Yes, it is. It's available in every region and every currency we support.
How do I revert to my regular price when I'm done offering a discount?
If you didn't set an end date for the Discount Code, you can always delete the Discount Code.
What does my customer get charged?
If your customer inputs the discount code at checkout, the discount will be applied to their order, so they'll be charged according to what the discount code is worth.
Does this apply to just one product or the whole Store?
Discount Codes apply to the whole Store, not a particular product. If you want to offer a discount on a specific product, use Product Discount that's managed within the Product Options. Click here to learn more.
What's the difference between Flutterwave Store Discount Codes and Product Discount
As the name suggests, Flutterwave Store Discount Codes allows you to generate discount codes that your customers can use on your store. The code can either apply a percentage discount, a fixed amount discount, or free shipping to a customer's order. The code is inputted at checkout and applies to the customer's total order.
For Product Discount, you only have the option of setting the "original price" and the "compare price," on a specific product. i.e xyz product normally sells for $5 but you can buy it now for $3. It is product specific and does not apply to the whole store. It is mostly useful for just sales discount on specific products.
Flutterwave Store Discount Codes is yet another feature in our quest to give you the ultimate ecommerce store and we'd love to hear from you. Please reach out with any questions or suggestions. Please email hi@flutterwavego.com.