This year, online stores will be offering a countless number of deals, and due to COVID-19, we highly advise you to stay indoors to shop to avoid getting into contact with crowds. Black Friday is considered by many to be the best period to get the best deals from stores. With so many deals from different vendors, it can get overwhelming, but how do you know if a deal is truly worth it? We are here to help you make the best decision when making purchases this Black Friday from the comfort of your couch.
Use a virtual card for shopping.
A virtual card is an electronic version of a plastic debit card. With a virtual card, you get a 16-digit card number, an expiry date for the card and a security code just like a physical debit card. Using virtual cards provides safe and secure means of shopping and is convenient for making international payments. It also allows you to set spending limits on your card, restricting you to specific amounts to spend during Black Friday. You can create a virtual card for yourself by downloading Barter on the Appstore. Read more about creating virtual cards on Barter.
Research prices before Black Friday
It is best to know the original prices of items before Black Friday. This will allow you to know when prices are inflated before Black Friday and merely reduced to be tagged as a good deal. Do well to find out the price of the items to ensure you are truly getting a good deal before making any purchase.
Have a shopping list and stick to it
The best way to avoid overspending is by creating a shopping list with a set budget to guide you when shopping. When you write down a specific list of items you need to buy, you are unlikely to deviate from it and be lured into buying things unplanned for or making impulse purchases unless the budget you have set up for shopping can accommodate them.
Shop from Flutterwave Merchants with Barter Virtual Cards or Pay With Barter.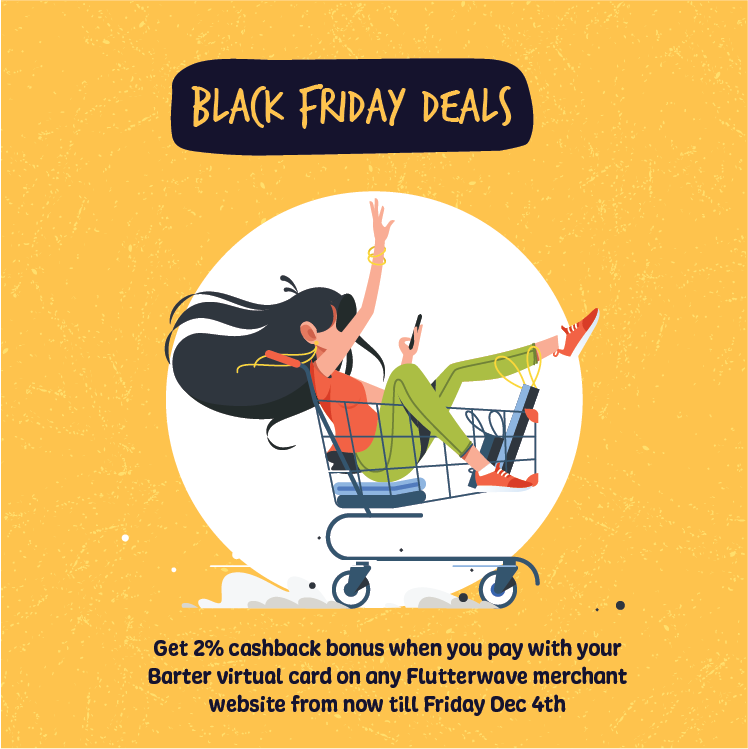 Barter is giving its users in Kenya, Ghana and Nigeria cashback for using virtual cards on all Flutterwave merchants portal. Users will get a 2% cashback bonus. What does this mean? For anything Barter users buy, Barter will give them 2% of the total amount back.

Avoid untrusted websites
When a website is visited, you will need to ensure you look out for SSL encryption to ensure your card details and information are secure and in safe hands. You can check to see if a site URL starts with "https", this indicates that the website has an SSL certificate. You can also click the padlock icon in the address bar to check the certificate information. This protects you from card fraud and makes it difficult for hackers to capture your payment information.
Black Friday commences the holiday shopping season and is believed to offer the best deals from stores throughout the years. However, if you are unable to shop during this day, you can still make up for it on Cyber Monday.