Black Friday is finally here! Shop online with Barter to enjoy amazing offers that will have cash coming back to your pocket, pun intended. Starting this Friday, November 27th, through December 4th, Barter users will be enjoying amazing offers such as the creation of gift cards and paying with Barter virtual cards on Flutterwave merchants.
Gift Cards
Barter virtual cards allow your friends and family to make payments and shop online anywhere in the world, especially where their local cards are restricted.
This year has been tough on all of us, so we believe it is the best time to gift a friend or relative with a card. Let them use the card to get all those Black Friday deals, pay for Netflix and have a relaxing year in December. Barter is reducing the amount for creating gift cards from $4 to $2. That's 50% off! Like we said, we are giving you back your money for living your very best life!
Paying with Virtual Cards on all Flutterwave merchants portal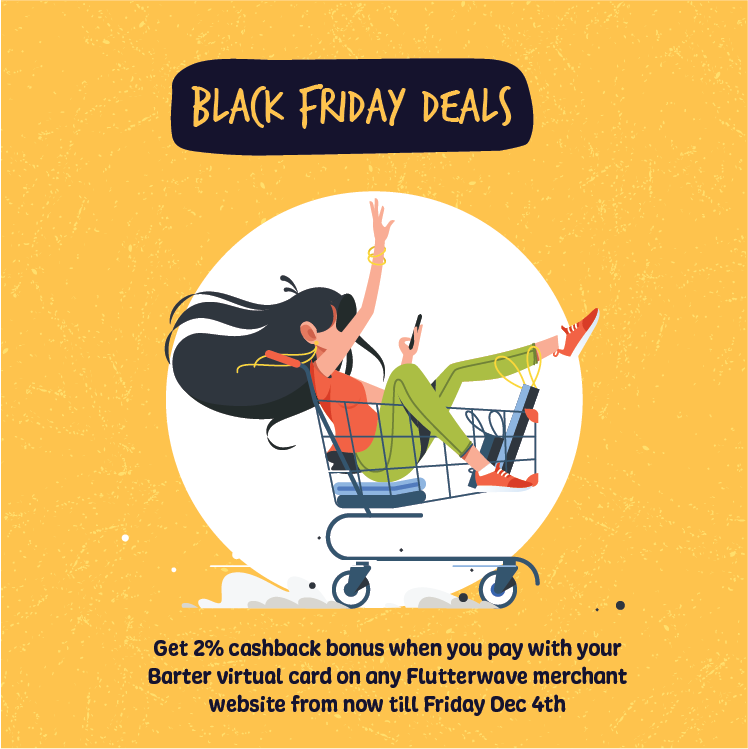 For our users in Kenya, Ghana and Nigeria, we have a deal for you!
Barter is giving cashback for using virtual cards on all Flutterwave merchants portal. You get a 2% cashback bonus. What does this mean? For anything you buy, we will give you 2% of the total amount back. Yes, no strings attached, go ahead and do what you already do and get that bonus for free!. 
You can deposit this money into your Uber cash account using Barter to hold you down whenever you need a ride to town.
Tell us, who else is out there trying to give you money this Black Friday? They are all trying to take from you, but we are giving money back instead.
Virtual USD Card deal for $2 and 2% cashback will go on till December 4th. Head over to your Android Playstore or iOS Appstore and download Barter to get some money today! Hurry and sign up today!