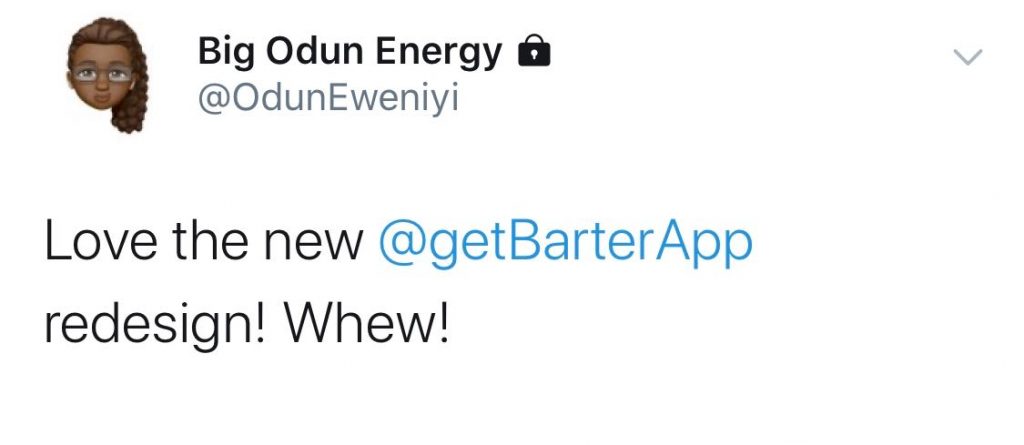 We're always working to improve how Barter works and looks, so we made some changes to the in-app card menu and transaction categorization.
The question was: "How can we improve the experience with Barter without essentially taking out all its elements?" Quite a task, but we did that!

CARD MENU PAGE

The new card menu has been updated with easy-to-use navigation that helps you (particularly new users) have a seamless in-app experience.

Here's the new face to the card menu, the image on the left is what it used to look like, and the one on the right is what we have updated it to:

Speaking on the new Barter card design, Barter Product Designer, Mitch Chibundu says "We realized, with the old card menu, new users had issues with distinguishing the default barter card with the dollar card. Also, existing Barter users had issues with funding their cards due to it not being intuitive enough. This sparked the idea to make it easy for users to identify options (withdraw/fund card) and be able to do what they need to"

New users have the 'Create a new card' screen first on their card menu screen, which makes it easier for them to take action immediately once they get on the cards menu was a little too busy with information all over the place, and we opted for a less cluttered look, so we decided to be a little more discreet with the screens as you can see above with the "Details" menu; where you can your obtain card details.

For our new users, we thought to make card creation less daunting. As a new Barter user, the first prompt you receive when you switch to the card menu is "Create a new card". Sounds right, yeah? We thought so too.
So if you're an existing Barter user or a 'newbie', creating a custom card (Netflix, Apple Music, Spotify, Udacity, Heroku ) for all your needs has a more appealing feel to it.
TRANSACTION/CATEGORIZATION PAGE
We've added more ways to categorize your spending on Barter and it is quite cool if we dare say so ourselves.

Think about it; spending money is one thing, figuring out 'how' you spend your money is another. How much do you actually spend on bills monthly? Is your enjoyment spending history matching your enjoyment budget? Are you under budgeting or overspending?

Keeping track of this is really important if you want to become even more money smart, so we decided to help with that! With the all-new Barter spending categorization, you will now be able to accurately keep track of what you spend your money on.



That amazing Saturday night ice cream cone you bought can be categorized as 'self-love' and your Uber trip to the office can easily be categorized as 'Travel'. Now you can plan and budget your spending so you get a full picture of how you spend your money.

If your app hasn't switched to the new card menu, You may need to update Barter via your device store (App Store or Play store) to experience this.

We'd love to hear what you think about the facelift.

Share with us on social media: @getbarterapp (Twitter & Instagram)