One thing is sure, we'll continually innovate to give you and your customers the best payment experience. From giving you access to millions of potential customers via payment methods such as Google Pay, to ensuring secure and seamless payments for you through QR code technology. We're excited to inform you that the Nigeria Inter-Bank Settlement System Plc (NIBSS) QR payment method is now available on the Flutterwave Checkout.
What is NIBSS' NQR?
NIBSS' Quick Response (NQR) payment solution is a fast & ingenious payment platform that enables both merchants and customers to receive and make payments for goods and services seamlessly. This solution allows customers to scan a QR code generated on a merchant's checkout page if they opt to pay via NQR. Each transaction will display a QR code that will have unique details containing the information relating to the transaction and will link with a customer's Banking App, already enabled on their smartphone.
How To Enable NQR Payment Method
Go to "Settings" on your new Flutterwave dashboard
Click on "Business Preference"
Click on "Payment Methods", and you will see a list of payment methods.
Click "Enable" NQR, it saves automatically.
That's it. Your Nigerian customers can now pay you using NIBSS NQR.
How Customers Pay Using NQR
The customer selects "NQR" as the preferred payment option on your checkout and a QR code is displayed.
Then they open their bank's mobile app and select "NQR Payment" or "Scan QR"
The customer scans the QR code on the checkout and confirms the merchant's name and amount.
The customer authenticates using their PIN and completes the payment.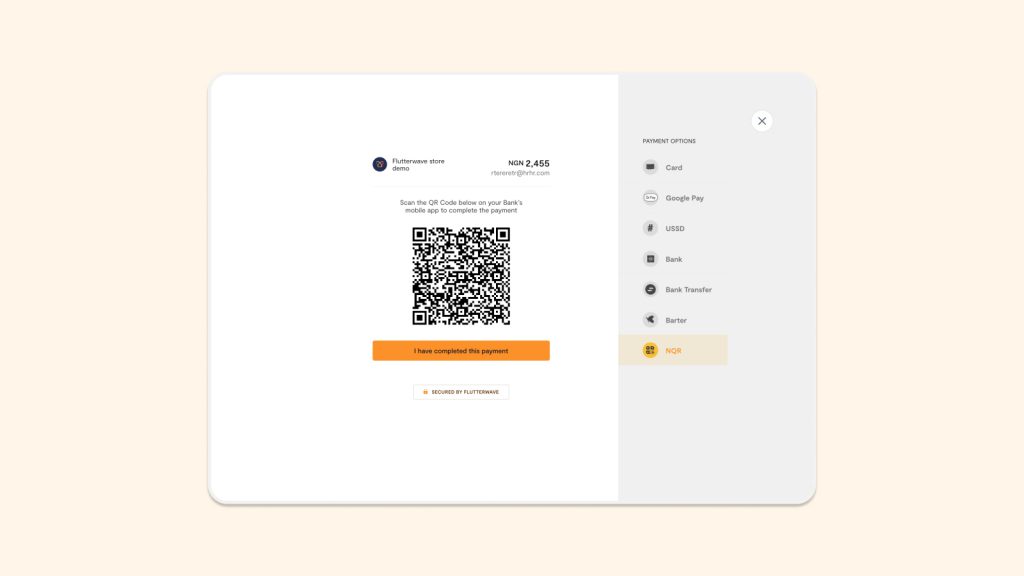 That's it. The payment reflects in your dashboard like all other payments and you get settled as usual.
Here's a video from NIBSS that shows the process:
Frequently Asked Questions
1. What is the transaction fee for NQR payments?
This service costs 1.4% of the transaction value capped at N2000, like local payments in Nigeria.
2. What kind of businesses are eligible?
All businesses on Flutterwave that accept payments from Nigerians can enable this payment method.
3. Does this payment method affect my settlement cycle?
No. This payment method doesn't change your previous settings for your settlement or affect other payment methods you already enabled.
If you have questions, our customer experience team is always available to you, send us an email here.
We'll keep building and supporting solutions that ensure endless possibilities for you and your business.