Us at Send launch: Send is direct, straight to the point, and is all about immediate action. "Do it Now" is not just a mantra, it's a way of life.
Our customers: You bet!
What did it mean to "Do it Now?"
For us it meant connecting to our very core. The very belief that you should have no boundaries, no borders, no limits, is at the core of everything we build. And immediate action is how we've always built, and that's how Send was built.
For our customers, it has meant instant transfers that are actually instant. It has meant that they don't think about any problem associated with sending money. It has meant a money transfer service that can be trusted to work quickly… every single time.
I was introduced to Send by Flutterwave's Ambassador – Adewale Adetona who happens to be my in-law. Moving to the United Kingdom, I couldn't find a trusted platform to send money home. Send does it quickly with no hassle. I was a bit sceptical at first but after using it a few times, I haven't looked back. I find myself randomly recruiting people to join the Send gang. Lol.

– *Biola, an anonymous Send user based in the UK.
You can only "Do it Now" if you're actually able to…
Amazing. I have had no issues with any payment I have processed since using Send. The process is not convoluted and within 2 mins you can complete your transaction.

– *Biola, an anonymous Send user based in the UK.
Our customers are enjoying the promise we made via the 4 pillars of the product that we announced at launch. Here they are again:
Transparency – This means that no hidden charges will occur. Any extra charges say because of where your card is being charged from, must be presented to you prior to completing the transaction.
Speed – Speed means more than just the speed of the app i.e load time, number of screens, fields, and clicks to get to what's needed. The speed of the entire transaction matters. This is why Barter is integrated as a receiving method to ensure faster transactions.
Coverage – With Flutterwave's rapidly growing extensive coverage of regions across the globe, we've built a product that will cover as many regions as possible for both sending and receiving actions. It's important to us that you're able to always Send and receive money anywhere, anytime.
Convenience – This starts with the ease of use e.g from the password-less login for the web app to the convenience of the payment options available both to the receiver and to the sender.
When you "Do it Now" you grow the economy
I send my Personal Assistant in Nigeria her salary every month as well. I have also used send to pay for a few services and products I have gotten from Nigerian vendors.

*Biola, an anonymous Send user based in the UK.
Doing it Now Makes All The Difference… It's more than just a marketing phrase. It's a commitment that's changing everyday people's lives. Send is improving lives by facilitating fast money sending from Europe, UK, US, to Kenya, South Africa, Nigeria, etc. Small businesses are being patronized by a new set of customers abroad that are otherwise inaccesible to them, young people are taking part in the gig economy and getting paid easily. That's what it's about, that's why we do it.
Again, Send is direct, straight to the point, and is all about immediate action. Do it Now is not just a mantra, it's a way of life and it's making all the difference.
NB: You can also "Do it Now" and here's how:
You don't need an account to start. Click the "Send Now" button on the homepage and enter your money transfer details i.e amount, sending currency/country, and receiving currency/country.
Next, input your email address or continue with either Google or Apple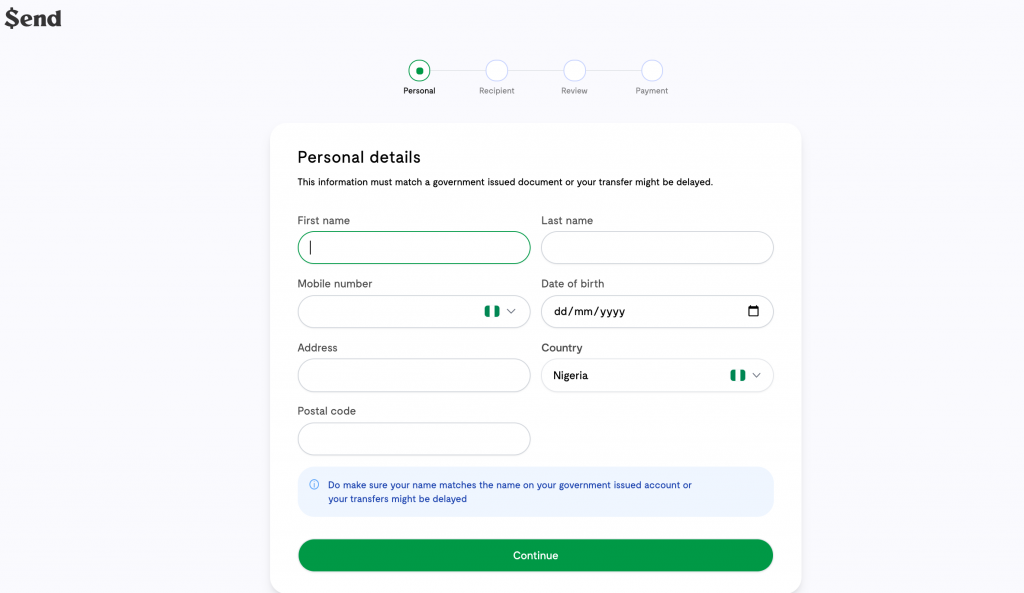 Fill in "Personal Details," "Recipient Details," "Review" the details, and make "Payment."
Make a difference, Do it Now.