In today's global economy, businesses are expanding their products and services in foreign markets to enhance sales and growth. However, despite the growing number of businesses expanding abroad, many other businesses have not leapt overseas. In the quest for businesses to expand their services globally, one major hurdle faced is transactional or payment charges.
This is why Flutterwave has collaborated with PayPal to waive off charges on the first $500 worth of payments accepted from international customers by Flutterwave merchants via PayPal. With this offer, the rebate will be given for 2 months from the date merchants accept the rebate offer. Hence, Flutterwave merchants will not be charged the cross-border fee for their first $500 worth of cross-border payments from customers during this Rebate Period.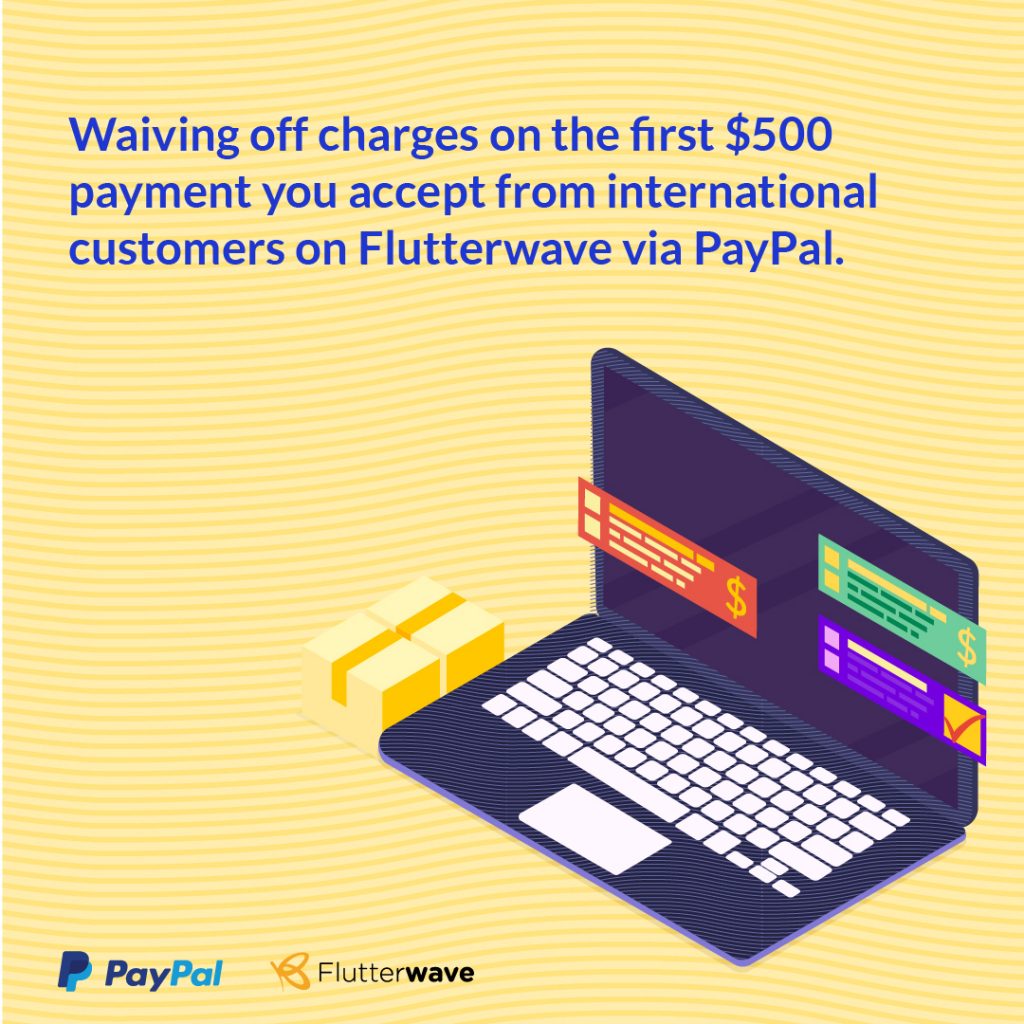 Why should your business take advantage of this offer?
1. Enjoy $500 Worth Of Marketing Exposure.
Flutterwave will be supporting merchants who partake in this promotional offer with a marketing package worth up to $500 at no extra cost. Merchants who partake will enjoy brand marketing packages which include; a feature in the Flutterwave weekly newsletter, co-marketing blogs on the Flutterwave website and social media features, amongst others. These businesses will also be exposed to 150,000+ businesses and individuals across Africa through a number of marketing initiatives by Flutterwave.
2. Grow Your Customer Base And Increase Sales With No Extra Cost.
Through this collaboration, Flutterwave merchants can attract and acquire over 377 million PayPal users worldwide at no cost. Flutterwave merchants that enable PayPal and receive payments of up to $500 or more will enjoy $500 worth of processing at no cost for the next two months. This offer ensures Flutterwave merchants can expand to countries that support PayPal payments with no stress related to payment charges and enjoy a rebate offer for transactions made from July to September. making it more convenient to receive payments from customers across borders.
3. Offer A Better Customer Experience
Customers prefer to shop with businesses that accept their preferred payment methods, and there are over a 377million people who use PayPal to make payments globally. It is therefore essential as a business to enable PayPal as a method of payment. Many individuals and businesses also prefer to make payments with PayPal since there is no need to enter their private financial details. To offer a seamless customer experience, enable PayPal as a method of payment to enable a quick and smooth checkout process for customers.
To enjoy this rebate offer, ensure you are a Flutterwave merchant or as signup a merchant today and enable PayPal as a payment method. As a merchant of Flutterwave, accept international payments with PayPal and welcome over 377 million users to your customer base. Click here to read the terms and conditions of this offer.
This offer is limited to Flutterwave merchants in Kenya, South Africa, Egypt, Morocco, Mauritius, Malwa, Mozambique & Senegal.